The CANS-NY Live Introductory training includes some self-directed learning activities to be completed in between each of the webinar sessions. All of the self-directed steps can be completed by logging in at www.tcomtraining.com .
See below for a detailed explanation on how to complete these steps.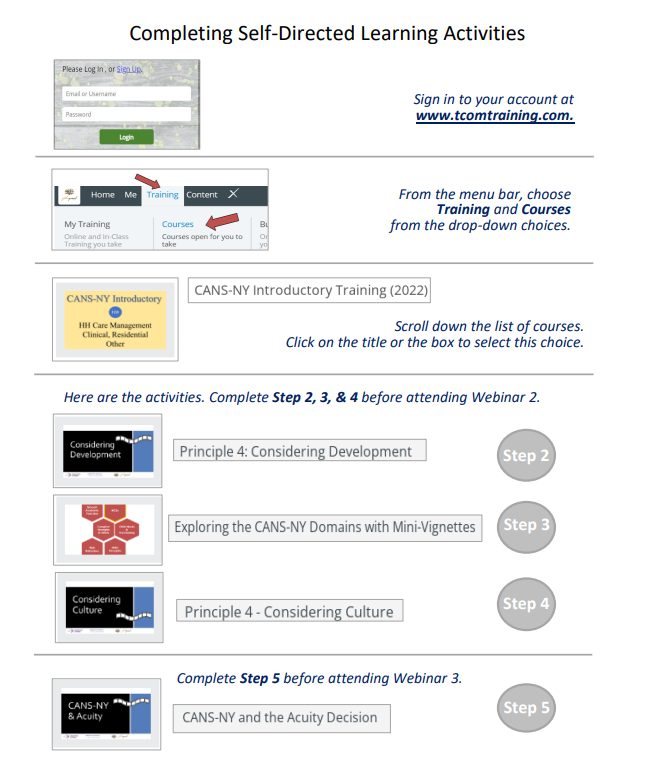 WHERE CAN I FIND THE SELF-DIRECTED ACTIVITIES FOR THE
CANS-NY Live Webinar Training?
Step 1 . . .
Login to your account at
www.tcomtraining.com
Step 2 . . .
Find the dark gray menu bar at the top of the page.
Hover over Training and click on Courses from the drop-downs options.
Step 3 . . .
Scroll down until you locate "CANS-NY Introductory Training (2022)" (it's the same place you registered for the live training webinars). Click on the course title or on the box image.
Step 4 . . .
Scroll down until you see Steps 2, 3, & 4.
These three steps should be completed in-between attending Webinar #1 and #2.
Step 5 . . .
After attending Webinar #2, return to this same spot and scroll to Step 5. Complete this activity before attending Webinar #3.