Family and individuals' culture should be considered prior to establishing the action levels.
Culture is a pattern of ideas, customs, beliefs, values and traditions that guide & influence a person's way of thinking, feeling and behaving.
In our work it is imperative to observe, reflect & inquire whether cultural factors are influencing the expression of needs and strengths for the individuals we work with. Our own cultural lens is shaped by unique life experiences and events. We often think of race or ethnicity as defining one's culture or cultural group. However, each person's lived experiences is personally unique. Keep in mind the complex multiple layers of life influences. The graphic below represent only some of the building blocks which can be stacked in a variety of combinations, forming the personal lens through which we interpret the world around us.
Take a few minutes to look over the various Culture Domains and characteristics below. What other categories might you add? It's likely that some circles quickly pop out at you because something resonates with significance to your life story.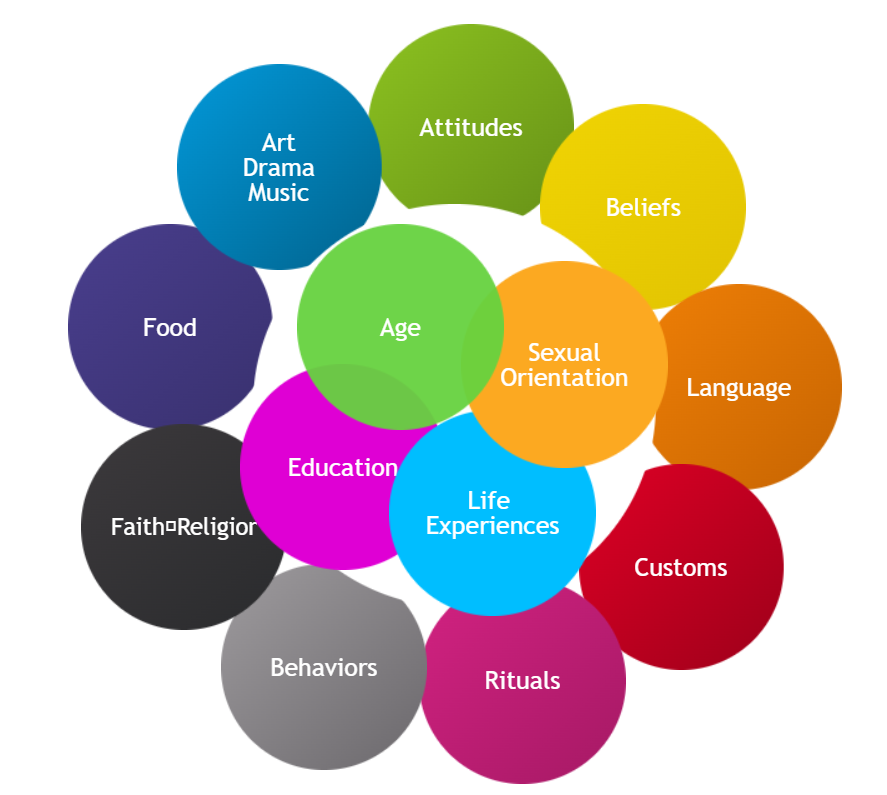 Truly take some time to reflect on what experiences have made you, YOU. Understand your influences, both positive and negative, that you carry every day because they ARE your story. Don't judge your own story, do not ignore your substance. Importantly, allow yourself permission to recognize and acknowledge biases exist. Take stock. Accepting how and why you walk through each day with the unique lens you have, having this self-awareness, creates space to set aside assumptions, judgements and limiting engagement. This space creates openness and consideration of others, which is how you want to enter a new relationship, a cross-cultural relationship.
Embracing and practicing the skills below strengthens the lens for consideration of culture during the assessment process, particularly when determining ratings of needs and strengths.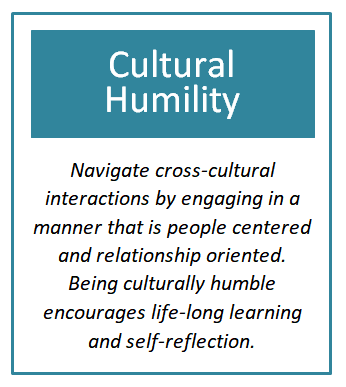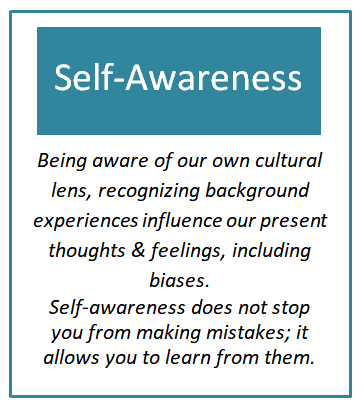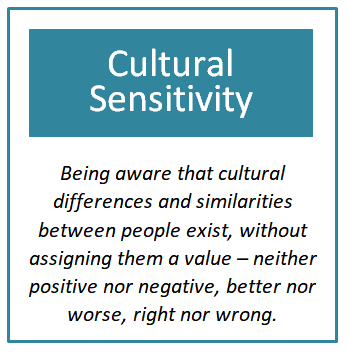 ---------------------------------------------------------------------------------------------------------------
Would you like to learn more about the 4th Key Principle? Below you can find some excellent multi-media resources.
TCOM Video - "How do we stay culturally humble and responsive? | Ask a TCOM Trainer"